Hong Kong
May 5 - 21, 2023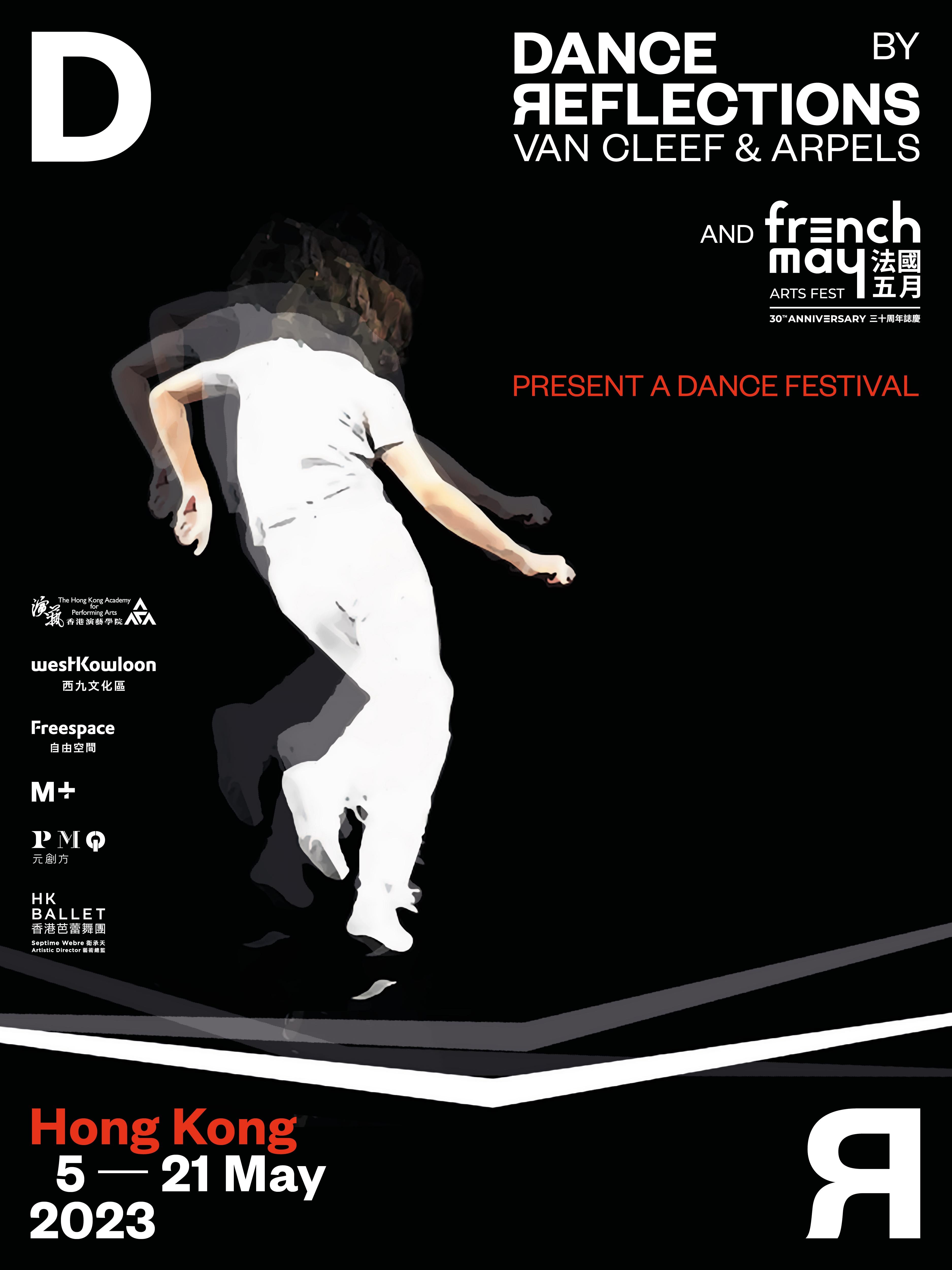 In 2023, Dance Reflections by Van Cleef & Arpels and French May Arts Festival present a Dance Festival.
After London in March 2022, this year the Dance Reflections by Van Cleef & Arpels Festival is taking place for the first time in Hong Kong in collaboration with our loyal partner, French May Arts Festival. Over three exceptional weekends, prestigious institutions will host an unprecedented program. Featuring seven internationally renowned artists, this line-up attests to the richness of the choreographic arts.
From performances created for the stage to works designed for public spaces, the festival promises to present a new vision of the arts of movement in all their diversity. In addition to supporting creation, Dance Reflections by Van Cleef & Arpels is committed to promoting transmission and education. A series of encounters with the artists, and workshops open to all – dancers and amateurs alike – will be offered to ensure that everyone can express and explore their own relationship with the world of dance.
At Freespace, a performance centre located in the heart of the West Kowloon Cultural District, artist Gisèle Vienne will present Crowd, a captivating work that draws as much inspiration from music and cinema as it does from dance. Ola Maciejewska, with two shows born from her research into Loïe Fuller's Serpentine Dance (1892), will invite the audience to consider the history of the discipline. Alessandro Sciarroni turns his attention to the question of repertoire through a traditional dance from the Bologna region in Italy, which is further explored in an open choreographic workshop. Meanwhile, Christian Rizzo will present two projects: a production from his repertoire, Sakınan göze çöp batar, performed by Turkish dancer Kerem Gelebek in an evening program shared with Greek choreographer Katerina Andreou, and a three-week creation workshop at the Hong Kong Academy for Performing Arts involving eight local dancers. With Passages by Noé Soulier and Les Traceurs by Rachid Ouramdane, dance will occupy the urban landscape, opening up a dialogue with the city of Hong Kong and its imposing architecture. This event will also offer Noé Soulier and Alessandro Sciarroni the chance to lead initiation workshops.
The Dance Reflections by Van Cleef & Arpels Festival expresses its commitment to supporting dance and sharing its passion with the broadest possible audience. I would like to thank all our partners for their contributions to this wonderful opportunity to celebrate the choreographic arts.
Serge Laurent
Van Cleef & Arpels' Director of Dance and Culture Programs
Read more