For nearly a decade, Bobbi Jene Smith's identity as an artist was tied inextricably to her gutsy, vulnerable interpretations of the work of Ohad Naharin at Batsheva Dance Company.
In 2014, while still at the height of her dancing prowess, Smith left Batsheva to pursue a choreographic career of her own, a transition that was the focus of Elvira Lind's acclaimed 2017 documentary, Bobbi Jene. It catapulted the Iowa-born, Juilliard-trained dancer to relative celebrity with its painstakingly intimate portrayal of her challenging move back to the United States, where she hadn't lived since she was a teenager, and the creation of her 2016 solo, A Study on Effort. The documentary won multiple awards at the prestigious Tribeca Film Festival in New York City, introducing audiences far beyond the contemporary dance world to Smith's magnetism and landing her roles in several other feature films.
Smith, who is 39, has now been forging an artistic life outside of Batsheva, home to the distinct, infectious style of Gaga created by Naharin, for nearly as long as she was inside of it. She is far from alone in this: Batsheva has a reputation of producing successful choreographers, from Shamel Pitts to Sharon Eyal to Hofesh Shechter, whose work is inevitably judged relative to Naharin's. Though Smith welcomes these comparisons to her former boss – in fact, she says she hopes audiences can see her dance lineage in her work – it's safe to say that Smith's choreography stands on its own.
Since moving back to the United States from Tel Aviv, Smith has become one of the most sought-after choreographers in the country, creating work for contemporary and ballet companies alike, along with her own rotating troupe of artists. International groups from Batsheva to the Royal Danish Ballet have come calling, too, and in March, she'll premiere her most high-profile project yet: A large-scale commission for the Paris Opera Ballet, Pit, set to an orchestral score by Celeste Oram, plus Sibelius' Violin Concerto.
It was the visceral humanness that defines both Smith's performances as a dancer and her choreographic work that piqued the interest of former Paris Opera Ballet director Aurélie Dupont, who saw a video of Smith's 2021 Pierre for the Royal Danish Ballet. "She liked how you could see the people in it, how you could really feel the individuals and empathize with them," says Smith, who says she was shocked to hear from Dupont.
Smith's process is equally people-centered. "Whether I'm working with musicians or ballet dancers or contemporary dancers, for me, it's people," she says. When it comes to the French company, "those people happen to be really good at ballet," says Smith, who held auditions to select her 20-person cast. "And probably a lot of other things that we have yet to know."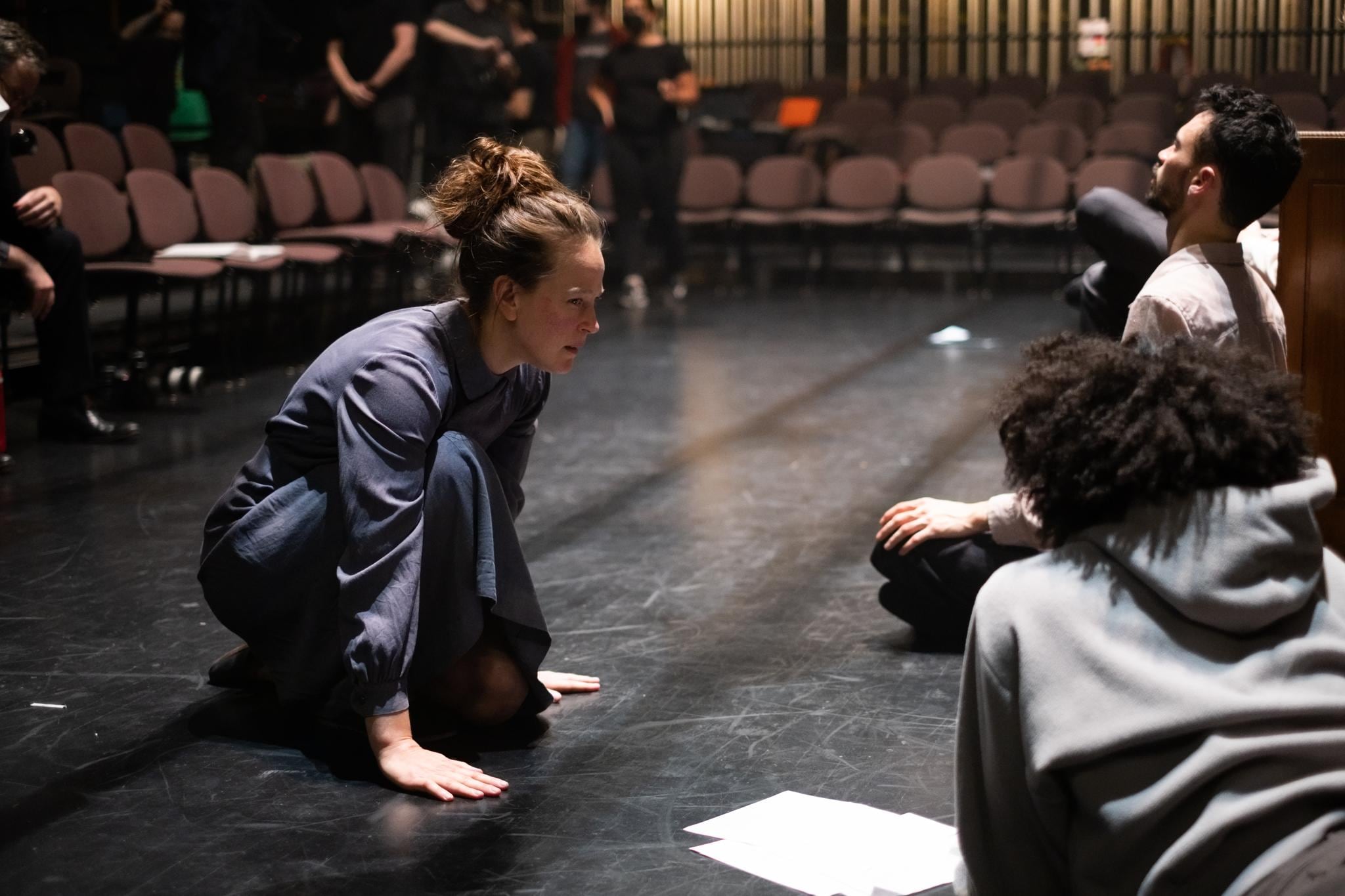 In rehearsal, working with Smith "surpasses just working on a dance piece," says Jeremy Coachman, a dancer with L.A. Dance Project where Smith is artist in residence. (Her Quartet for Five for LADP recently toured to the Théâtre du Châtelet.) "It's very grounding, the way she brings humanness into the studio – it's not just about a finished, polished product, it's about an experience in time and space," he says, with Smith never asking dancers to perform or portray feelings or experiences but to live them in real time.
She also models bringing her whole self into the studio, says Coachman, creating an environment where dancers feel free to do the same and where "absolutely nothing is off the table," he says. "Anything and everything can be a valid suggestion that's up for discussion." (Smith often acknowledges these contributions by listing dancers as additional choreographers of a piece.)
Also key to Smith's process: her husband, fellow former Batsheva dancer Or Schraiber, who will be credited as co-choreographer of Pit and who has had a hand in nearly all of her recent projects. "We are constantly feeding off of each other," Smith says. "It's very organic in a way that it's hard to tell where things are coming from. His body language and my body language are talking beyond us, and when they meet, there's this real convergence."
As unshakeable as Smith may be, the prestige of creating for Paris Opera Ballet is not lost on her. "Yes, we hold that dear," she says. "But we have to quiet that down and listen to what's showing up." Smith won't say much about what is "showing up," and, true to form, she anticipates Pit may change direction when rehearsals begin this month. "We can prepare and prepare, but until we're in the room with the people who are actually going to live in the piece, there's so much unknown," she says.
Like in many of her works – most notably With Care, where two violinists move with two dancers as equals – she expects to be in rich conversation with the music. "I'm excited to dig into that with this group of people, because they are masters at [musicality], and I'll probably learn a thing or two," she says. Smith sees the orchestra itself as a collaborator, too, and wants it to be "not just a tool," she says. "It's a huge part of the world we're making and a key to dramaturgy of the piece."
After her premiere in Paris, Smith will tour her new Broken Theater, a long-gestating work (it began as a dance film) for 14 dancers, musicians and vocalists, including herself and Schraiber, that probes at the gap between onstage and offstage personas. For Smith, this gap has never seemed to exist—and that's on purpose. "I just want to keep taking chances, and stay on the edges of myself," Smith says. On a stage as big as the Paris Opera, that can feel scary, she admits. "But I don't know any other way."
Photo : Bobbi Jene Smith, L.A. Dance Project © Josh Rose
Pit
Choreography Bobbi Jene Smith & Or Schraiber
from 17.03 to 30.03. 2023
Opéra national de Paris - Palais Garnier
operadeparis.fr

The ballet Pit is being captured and will be broadcast live on 29.03.2023 on the platform of the Opera "L'Opéra chez soi".