"Pantsula isn't just a fun dance with fast rhythm, breaks, improvised movements, accessories and mime: there's a message in it," says Julia Burham in the short documentary Pantsula and the Promised Land(Filigrane Archives). Burham is one of the performers in Via Kanana, a piece created in 2017 by the South African choreographer Gregory Maqoma for Via Katlehong. Via Kanana delves into what is now left of the promises of post-apartheid South Africa, by combining contemporary techniques and the key characteristics of pantsula and another South African dance, gumboot – staccato footwork, whistling and scenes drawn from daily life.
Since 1992, Via Katlehong has crafted dance narratives inspired by the township it is named after, 25km away from Johannesburg. A pioneering pantsula group, Vibration, showed its founders the way. "Vibration was very popular in the 1980s," says Buru Mohlabane, Via Katlehong's co-director and artistic director since 2007. "One of their members came up to a street dancer from the neighborhood, David Mahlaba, and encouraged him to create Via Katlehong." More than a company, Via Katlehong became a refuge for a whole generation, among them Mohlabane, who joined the company in 1996: "The goal was to lead us children away from crime and the violence of daily life. Dance played an important part in the life of the township, and in our personal trajectories. We learned discipline and dance became a place of healing."
Pantsula is a whole culture in itself, and a space of creativity several generations have used to tell their stories. Born in the streets of poor neighborhoods in the 1950s, it combines traditional South African elements and American influences in its steps, music and fashion. Pantsula structured itself somewhat in the 1970s and 1980s, when companies dedicated to it were created. Performed chiefly in townships, where Black people were brought together from the 1950s onwards, it shares some of its features with gumboot, which dates back to the early 20th century. "Gumboot is a powerful dance we inherited from our grandparents," Mohlabane says. "Because they were forced to go work in the mines, they created a language with their bodies and their boots, rhythms and songs which evoke hope as much as labor."
Mohlabane, who also teaches in the company, has fought for years for the professionalization of these historical dances, as well as for their local and international recognition. "Pantsula and gumboot dances are above all means of communication. It is a big deal to perform them, when we know what they meant for our ancestors," says Lungile Paulette Mahlangu. This 28-year-old freelance dancer, who grew up in Pretoria and now lives in Johannesburg, has danced with Via Katlehong for three years. "Each training session we follow starts with a reminder of where these dances come from and how we can adapt them to our modern lifestyles," she adds. While the company has been focused on documenting key pantsula steps (that process is already further along for gumboot), Via Katlehong also moves with the times. "The original music has been replaced by house music, kwaito, and now amapiano," Mohlabane says. While women weren't originally involved in performing pantsula, they are now. "The female ensemble Skhanda Queens opened some doors," Mahlangu says. "Honestly, this dance is very demanding on our bodies, our backs, our knees, but we're grateful to have a chance to break through these barriers. We're on stage with the men, and we have the same energy and jump just as high!"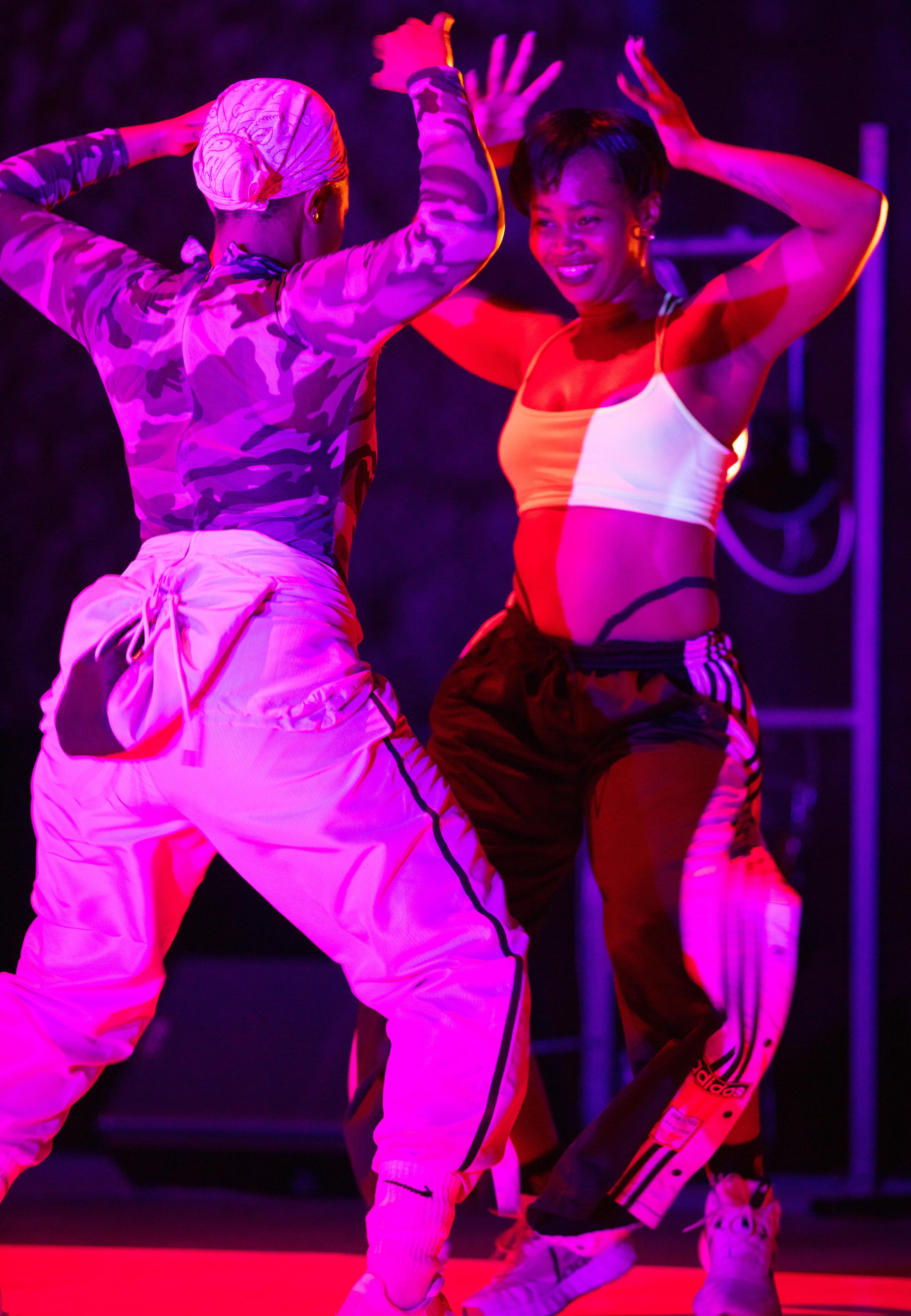 Guest choreographers have also contributed to the creative development of the company, to supplement its strong local roots. After Maqoma, Via Katlehong invited the French-Senegalese choreographer Amala Dianor and Portugal's Marco da Silva Ferreira to create Via Injabulo, a double bill that is currently on tour, and the company is now working on potential projects with Brazilian artists. These collaborations are largely responsible for the international development of the company. While pantsula, originally a form of protest on the margins of society, has become part of mainstream pop culture in South Africa, few companies there can support themselves through pantsula-inspired performances, like Via Katlehong does.
Even Via Katlehong's financial stability must be put in perspective, with fewer than twenty permanent company members (who do not have exclusive contracts) and production teams that need to be re-hired for each show. Via Injabulo, for example, was co-produced by nine European institutions, eight of them French, like Lyon's Maison de la Danse, the Théâtre National de Chaillot and the Avignon Festival. "France is our second home,"Mohlabane says with a smile. It has been since their Paris debut, in 2003 at La Villette. "Via Katlehong doesn't get government subsidies or funding from private sources in South Africa. Our city contributes by giving us access to rehearsal spaces, but in terms of actual financial support, it mostly comes from France, where institutions do recognize our dances as professional performances." Via Katlehong teaches pantsula to new generations in South Africa and abroad, "but there are no academies in our country where you can actually get a related degree," says Buru Mohlabane. "This is our dream, which we at Katlehong constantly work on."
Via Injabulo
by Via Katlehong
choreography Amala Dianor & Marco da Silva Ferreira
24.09.2022 Théâtre Louis-Aragon, Tremblay-en-France
27.09.2022 Opéra de Dijon
1.10.2022 Espace Michel Simon, Noisy-le-Grand
6 > 9.10.2022 Chaillot Théâtre national de la danse, Paris
and till December 2022 in Albi, Toulouse, Lyon, Le Mans, Brest, Colombes, Créteil, Annemasse, Grenoble, Annecy et Châlons-en-Champagne
---