In 2018, American choreographer Pam Tanowitz received the kind of review that can alter the course of an artist's career. Writing about the world premiere of her Four Quartets, The New York Times's chief dance critic, Alastair Macaulay, stated that it was "the greatest creation of dance theater so far this century."
Tanowitz has been creating dances as an independent choreographer in New York City since the early 1990s. But Four Quartets – which features the music of Kaija Saariaho, the paintings of Brice Marden, and a recitation of T.S. Elliot's epic poem – was only her second large-scale work for the stage. Tanowitz says that until 2016, she made one small show per year because she "had a family and a full-time day job."
In the wake of the success of Four Quartets, at a time when many artists have been struggling due to the effects of the pandemic, Tanowitz has been in high demand across the world. She has created new dances for the Australian Ballet, New York City Ballet and The Royal Ballet, including a piece that will have its world premiere at London's Royal Opera House in February 2023. Her company, Pam Tanowitz Dance, performed at the Barbican and the Venice Biennale. In 2022 alone, she made six new works, in addition to remounting several previous creations.
"I'm very glad that she's getting national and international recognition now, but there's no reason this couldn't have happened ten or fifteen years ago," says Gideon Lester, the artistic director of the Fisher Center for the Performing Arts, which produced and co-commissioned Four Quartets. "I think if a male choreographer had produced the kind of work that Pam was making in her thirties and forties, there is no question that she would have been brought to public visibility much earlier. I regret that she is now in her early fifties and only just starting to get the resources that she needs."
The Fisher Center invested "a lot of money and several years" into Four Quartets, Lester says, and in 2019, the venue – located on the campus of the private American university Bard College – made Tanowitz a long-term artist-in-residence, giving her a salary and taking over the administration of her company. Lester points out that, while such an arrangement is common in countries like France, it remains highly unusual in the United States where he says "the ecosystem of dance is one of presenting and not producing."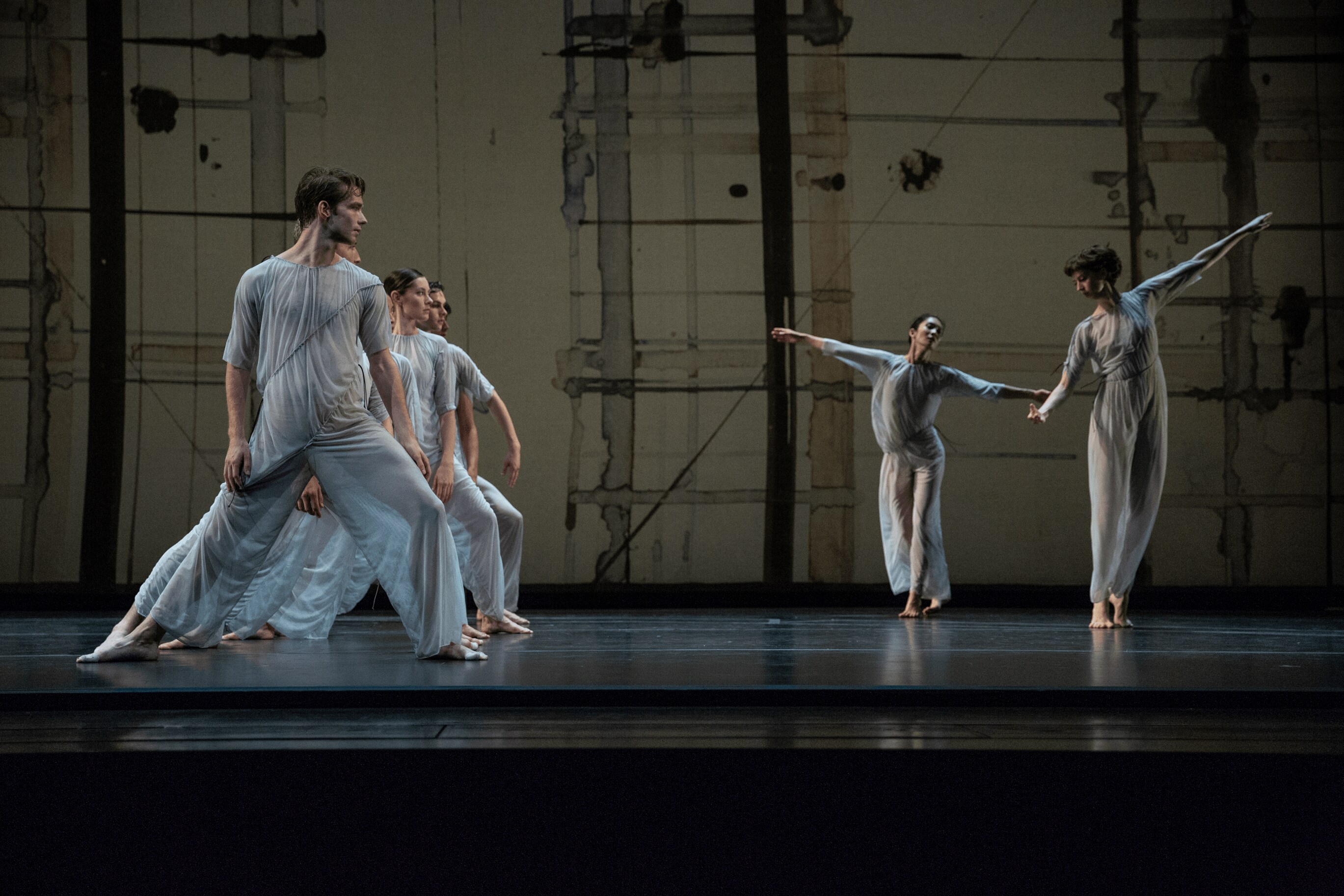 Of all the art forms, "dance is in the greatest crisis in the US," Lester says. "American choreographers are used to working in a state of real poverty. We have very little government support and increasingly little philanthropic support. Pam can't be an intermittente du spectacle. So we had to build an infrastructure for her." 
Despite these difficulties, Tanowitz describes herself as a "very American" artist. She has a reputation for being well-versed in her country's modern dance history and for repurposing the movement vocabularies of other choreographers ranging from Trisha Brown to Jerome Robbins and Twyla Tharp. But it is Merce Cunningham to whom she is most often compared. 
This is likely in part because many of Tanowitz's long-time dancers also performed for Cunningham and were highly trained in his rigorous technique, says Cédric Andrieux, director of choreographic studies at the National Conservatory for Dance and Music in Paris, who performed with the Merce Cunningham Dance Company for a decade. Or it could be due to the influence of Viola Farber, one of Cunningham's star dancers in the early years of his company. " Viola Farber changed my life," says Tanowitz, who earned her Master's in Fine Arts at Sarah Lawrence College under her mentorship.
"Harmonizing with past masters," as Tanowitz put it to Dance Magazine, partly acts as a source of comfort. "Choreographing is lonely," she says. "Even though you are in a room with dancers and collaborators, you're by yourself when making final decisions." Still, being in a studio with "living, breathing people" influences her work. "I'm dealing with the histories of their bodies," Tanowitz says. "When I go to a place like New York City Ballet, the dancers already have [George] Balanchine right there in their bodies that I get to collaborate with. It's exciting."
"Splicing is a big part of Tanowitz's process," explains the American dance critic Jennifer Homans in her review of Tanowitz's 2022 creation Song of Songs. "She likes to mine steps from past choreographers… intercutting them with her own steps until they meld." Yet Homans also questions the limits of this approach. "Splicing and pressing can also be a way of hiding," she writes. "Where is Pam Tanowitz in all this formal manipulation?" Lester sees Tanowitz's work as "virtuosic" and says that it is "regarded as really radical" in her home country, though it might not be perceived that way elsewhere.
For all her international success, Ms. Tanowitz has yet to receive a commission or an invitation for her company to perform in France, a country that has traditionally welcomed America's most renowned choreographers. "Even though she's doing something which I think is completely contemporary, it doesn't look like experimental or post-modern dance," Lester says. "And therefore it may be that she is neither classical enough nor contemporary enough (so far) for France." 
He also wonders if Tanowitz's frequent comparisons to Cunningham, whose work has been widely shown in Europe for decades, could be a barrier to foreign programmers fully understanding her work. "I think it's slightly misogynistic to insist that a female choreographer has to remind you of the work of a male choreographer," Lester says. "She's not the next Merce Cunningham, she's the first Pam Tanowitz."
Photo : Pam Tanowitz in rehearsal with the New York City Ballet © Erin Baiano