TO DA BONE
(LA)HORDE
Show
May 23rd - 25th, 2022
Collective

(LA)HORDE

Production
In 2022, Dance Reflections by Van Cleef & Arpels is supporting the Théâtre de la Ville in its presentation of TO DA BONE by (LA)HORDE.
In a world where revolution happens at night and laws are voted on at dawn, what new forms can insurrection take? TO DA BONE is a work that aims to express a certain intimate rebellion of youth. It also seeks to reflect on the role that new media can play, particularly social networks like Facebook or YouTube, in mobilizing groups and giving rise to opposition movements. On stage, several dances grouped under the term "post-internet" will be presented, particularly those of Hardstyle and Hard dance such as Tekstyle, Shuffle, Hakken and especially Jumpstyle.
Extremely intense and physical for the dancers, a Jumpstyle sequence lasts 25 seconds on average. The jumpers consume all their energy to reach the end of their free sequence. The result is a wild movement of the legs, very powerfully going nowhere, reflecting a kind of release of a latent frustration. At the end of their solos, jumpers are out of breath but soothed, before a focused power emanates from them, full of defiance and confidence. Jumpstyle is a dance discovered on the Internet that is primarily practiced alone in bedrooms. Jumpers film their sequences and post them on the Internet to share their passion as well as their progress with the community. The process these self-taught dancers go through is often the same: the first videos are initially produced in a bedroom, they then migrate to the living room, and then develop them in the public sphere. Outside, the videos are first shot in a street, and then they move to ever larger and more theatrical spaces. Therefore, the practice of Jumpstyle evolves naturally on social networks through the medium of videos, with the community commenting and responding with videos of their own. Leagues are formed to create groups within the community that face off in virtual battles, which can be turned into live battles at Jumpstyle gatherings organized in several European capitals. The ten-minute performance of TO DA BONE, which won second prize in the Danse Élargie competition at the Théâtre de la Ville in Paris in 2016, is the first part of an hour-long choreographic piece developed by (LA)HORDE for the 2017/2018 season.
Photo: © Laurent Philippe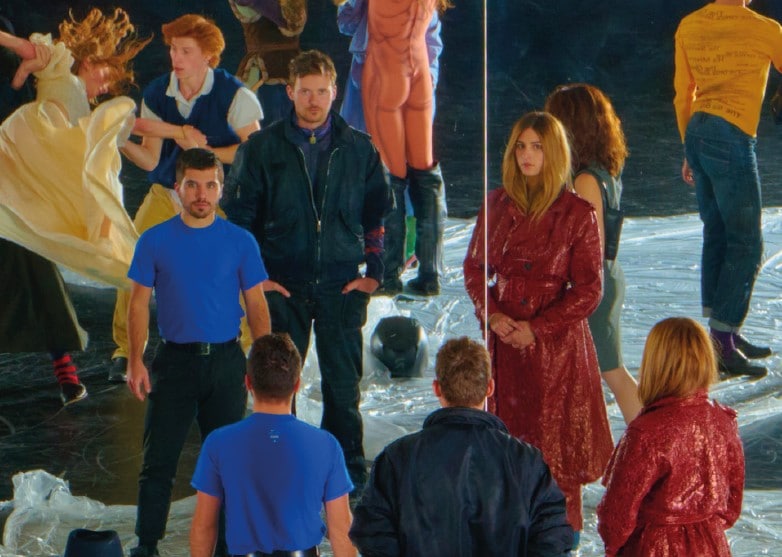 (LA)HORDE
Founded in 2013, (LA)HORDE is a collective of three artists: Marine Brutti, Jonathan Debrouwer, and Arthur Harel. Together, they question the codes of various artistic disciplines, particularly within the fields of live performances and contemporary art. At the head of the CCN – Ballet national de Marseille since September 2019, (LA)HORDE creates choreographic pieces, films, video installations, and performances around the body in movement. Using multiple media, they develop scenarios and actions rooted in contemporary issues; these are then set in several narrative spaces. (LA)HORDE collaborates with communities of individuals who are on the margins of the majority culture--senior citizens, blind persons, smokers, adolescents--to spend some time and accompany them in artistic solidarity. Opposed to all forms of hierarchy and cultural appropriation, they practice interconnection and cooperation. Anxious and on the lookout, they are on high alert. The body is at the center of their creation. They sign works derived from their encounters with different communities online, to define what dance has become since the advent of the internet, a subject dear to (LA)HORDE, which has led the members of the collective to define the phenomenon by the term/concept: post-internet dances.
Text: © Claire Diez
Photo: © Boris Camaca - DA Alice Gavin