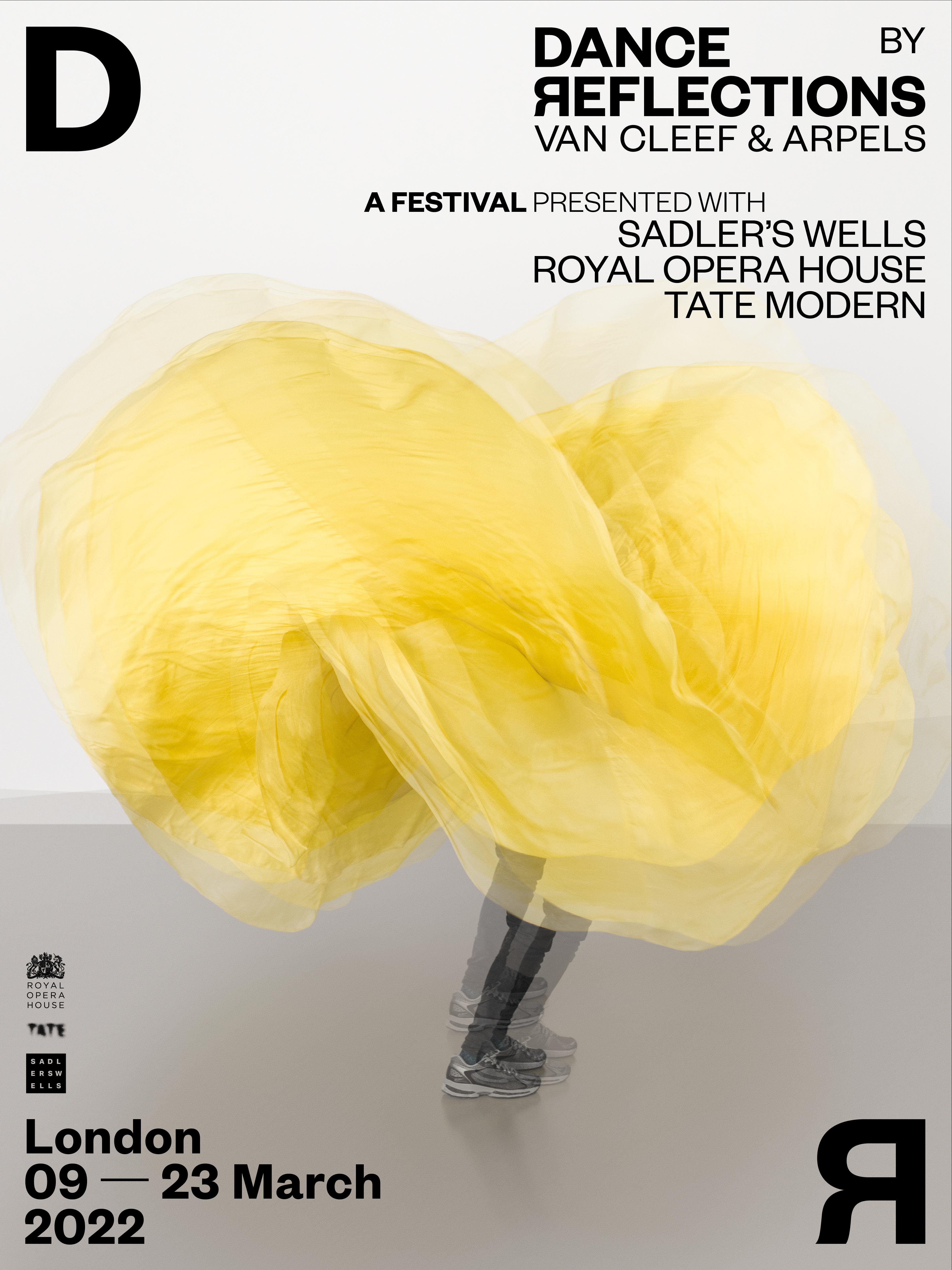 The culmination of our commitment to artists and institutions in the field of dance, the Dance Reflections by Van Cleef & Arpels Festival, developed in collaboration with Sadler's Wells, the Royal Opera House and Tate Modern, for its first edition, in London is an invitation to revel in the richness of choreographic creation.
Over a period of nearly three weeks, this first annual festival will feature a panoramic view of dance from the 1970s to the present day: some seventeen works will be staged, and there will also be artist forums and dance film screenings. The event also offers an opportunity to revisit the topic of transmission, and to discover – or rediscover – seminal works in the contemporary repertoire.
The creations presented include performances by Lucinda Childs, as passed down to her niece Ruth Childs, as well as Dance, a major work by the American choreographer, dazzlingly danced by the Lyon Opera Ballet. The programme also features Set and Reset by Trisha Brown, performed by two major British dance troupes: Rambert and Candoco Dance Company. These works, created during the 1970s and 1980s, contributed immensely to shaping the history of contemporary dance, and exemplify choreographers' connections to music and other art forms. Transmission is a central topic for Anne Teresa De Keersmaeker, as well. Having danced Fase ever since its creation in 1982, she recently entrusted the performance of the piece to two dancers from her troupe. The Belgian choreographer will also be presenting her new work, Mystery Sonatas / For Rosa, in which her movements blend with the baroque sounds of composer Heinrich Ignaz Franz Biber. This focus on the history of dance is also remarkably illustrated by the work of Polish choreographer Ola Maciejewska, who is presenting two works resulting from her research into Loïe Fuller's Serpentine Dance. Alessandro Sciarroni will stage two works that delve into the question of repertoire: one inspired by a Tyrolean folk dance, and a second based on a traditional dance from the Bologna region of Italy.
To round out this programme, there are also works by contemporary choreographers Boris Charmatz, Christian Rizzo and Gisèle Vienne – three top names in international dance – along with pieces by representatives of a new generation of choreographers: Brigel Gjoka and Rauf 'RubberLegz' Yasit, SERAFINE1369 (Jamila Johnson-Small) and Katerina Andreou.
The Dance Reflections by Van Cleef & Arpels Festival embodies our commitment to showcasing and sharing the legacy of dance and contemporary creation with the broadest possible audience. Together with our prestigious partners, we are thrilled to welcome you to this first annual event in London.
Serge Laurent
Programming
Dance Reflections by Van Cleef & Arpels
Read more